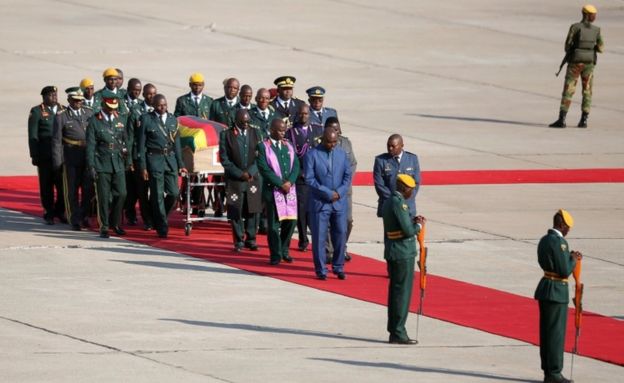 A private flight has brought the body of Zimbabwe's former leader Robert Mugabe back to the country's main airport.
The body arrived at Harare Robert Gabriel Mugabe International airport around 3:30 pm.
A convoy of 4X4 vehicle with number plates bearing the letters "RG Mugabe", his signature was also on the runway.
However, Grace Mugabe accompanied her husband's body in the plane back to Zimbabwe.
Meanwhile, a crowd of people gathered, some wearing the former president's image on T-shirt, waiting for the arrival of his body.
Actually, Mugabe's final resting place remains in doubt, although his body will be taken to the family home in Harare called the "Blue Roof".
Mugabe ruled Zimbabwe for 37 years until he was ousted away by his army in November 2017. He died in Singapore 5 days ago at the age of 95.