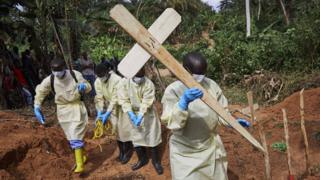 A 35-year-old radio host Papy Mumbere Mahamba who helped spread the word in the fight against Ebola has been stabbed to death.
Moreover, the attackers killed Mahamba in his home in the Northern Democratic Republic of Congo on Saturday, November 2.
Meanwhile, the attackers also injured his wife before burning down his house.
The Commander of Congolese Army Forces in the Ituri town of Mabasa, General Robert Yau confirmed the incident.
DR Congo declared an Ebola epidemic in August 2018 in the conflict eastern provinces of North Kivu, South Kivu, and Ituri, bordering Uganda, Rwanda, and Burundi.
According to the latest official figures, the Ebola virus has killed at least 2,185 people in the areas.
Obviously, efforts to contain the virus have been severally hindered by the conflict in eastern Congo.
Presently, we do not know the motive behind the killing in the town of Lwemba in the troubled Ituri region.
However, the attackers killed Mahamba after health authorities want to introduce a new vaccine against the disease in unaffected areas.
A journalist at Radio Lwenba local radio station where Mahamba worked, Jacques Kamwina also confirm the incident.
"Our colleague Papy Mumbere Mahamba was killed at his home by unknown attackers who stabbed him to death".
Health workers have repeatedly come under attack in DR Congo.